Transparent Frit For Wall Tile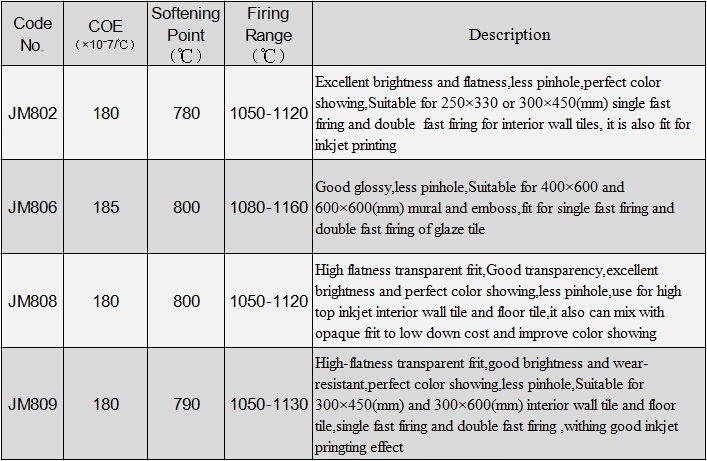 Hot sale transparent frit  JM802 
Place of original:zibo city,China 
Appearance:Transparent granule 
Application:For wall tile single firing and double firing,suitable for silk-screen printing and inkjet printing use. 
Brand name:JINMING GLAZE 
Transparent frit softening temperature: 780°C 
Transparent frit firing temperature:1050-1120°C 
C.O.E:180(×10-7/°C) 
Certificate:ISO9001 and SGS authentication,audited supplier. 
Packing details: Net 50kgs/bag, 25tons in one 20GP container. 
Delivery:Within 10 days after the deposite payment or irrevocable LC. 

The reasonable temperature of softening point and wide range firing temperature make it suitable for single fast firing and double fast firing wall tile very well. 
It is a super-smooth transparent frit which can form a high gloss, pretty smooth surface with high wear resistance. Make your tile more neat and clean. 
Wide range temperature frit and suitable for inkjet printing,excellent demonstration of colour. 
Mainly used to make size of 250*330(mm), 250*400(mm),300*450(mm),300*600(mm) ceramic glazed interior wall tiles. 

How to produce transparent frit: 
We will test its purity and quality when all raw material arrive at our factory to decide if it can be qualified up to standard,the ceramic frits are inorganic compounds that after been mixed are melted to 1460-1500°C in a special furnace of frit melting for 24 Hours, and later the molten magma cools in water rapidly producing crystals that according to transparent frit formulation serve for ceramic tile uses. Later,water quencing ceramic frit will be taken out from water to test the quality and be packed. 
Product advantages: 
1.Competitive price due to our low production cost for transaparent frit. 
2.All raw material such as potash feldspar,zinc oxide,zirconium silicate will be inspected under certificated QC system,so our top quality ceramic frit is always stable. 
3.Professional team provides technical services on sales and Engineers available to service customers overseas. 
4.Free samples will be sent for your quality evaluation and marketing activities or make a pre- production for next step. 

We hope to establish a win-win relationship with you for long terms.If you have any question about transparent frit,pls feel free to tell us.