Semi-opaque Frit For Wall Tile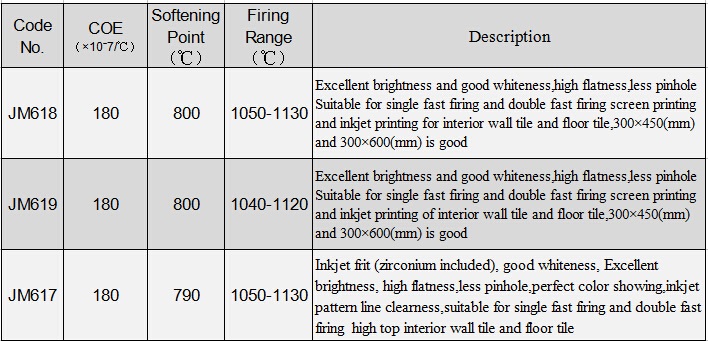 Hot sale semi opaque frit JM618
Place of original:zibo ceramic industry zone,China
Appearance:Transparent particle
Brand name:JINMING GLAZE
Softening point: 800°C
Firing point:1050-1130°C
Expansion Coefficient : 180(×10-7/°C)
Packing method: Net 50kgs/bag or ton bags
Lead time:Within 10 days after receive the contract or Letter of Credit.
Excellent brightness and good whiteness,high flatness,less pinhole.
Suitable for single fast firing and double fast firing cylinder printing,silk screen printing and inkjet printing for interior wall tile tile,300×450(mm) and 300×600(mm) tile is good.
Our semi-opaque frit can substitute opaque frit used in ceramic tile,but the price is cheaper than that of opaque frit to make your ceramic tile more competitive on the market.
Also our semi-opaque frit can be adjusted with zirconium silicate together to increase the whiteness,more straight glaze,improve the effect of printing pattern clearness.